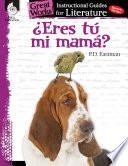 Eres tu mi mama? (Are You My Mother?): An Instructional Guide for Literature
Autor: Jodene Smith ,
Número de Páginas:
72
This Spanish instructional guide for literature will add rigor to students' explorations of complex literature and familiarize young readers with this well-known story of a baby bird's search for his mother. Engaging cross-curricular activities will encourage English language learners to analyze story elements in multiple ways, practice close reading and text-based vocabulary, determine meaning through text-dependent questions, and more. This bilingual resource can be used at home or in the classroom.